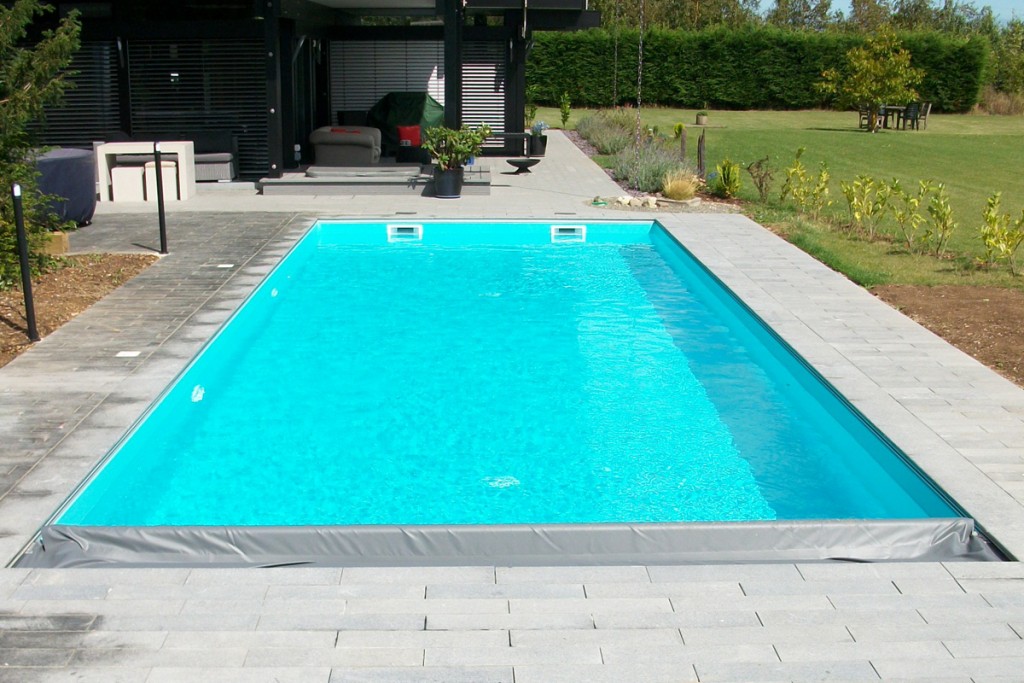 Bespoke Block and liner swimming pools are in-ground pools constructed from solid concrete blockwork, built off traditional foundations at the bottom of the excavation. These walls form the structure shape which can be traditional like a rectangle or in a limited free-form shape.
Because external and internal forces could, and often do, cause movement of these blockwork walls, rendering and tiling is not an option, as the pool would leak. Therefore, a vinyl liner is used for this method of construction which provides a waterproof barrier for your pool. This allows you to not only save on costs, but to change the look of your pool simply by changing the liner, as your tastes evolve through the years. Hands down our most popular option for some very good reasons!
Liners to Suit Your Style
Our liners are bespoke, made to suit your swimming pool and available in several thicknesses, colours and designs. You could even have the family crest added to the pool bottom or have a liner styled to look tiled, as with concrete pools. The life expectancy of the liner is anything from 8 to 15 years depending on usage, exposure to UV and general upkeep of the water quality etc. Just like wallpaper at home, when the liner needs replacing, you simply remove it, fill any cracks in the wall render, then replace with your new liner. You get the added benefit of changing the design or colour, which can transform the whole feel of the pool, all without any disruption to the swimming pool structure. The most popular option is the Onsite welded liner. Incredibly thick and durable, these liners can even have the look and feel of stone, sand or mosaic tiles! You can take a look at some samples in our showroom.






Vinyl Liner Pool Construction
These swimming pools are suitable for both indoor and outdoor use, subject to any design requirements involving the proximity of the building foundations There are elements of the construction process which would require a specialist competent and qualified swimming pool contractor to carry out. However, if you are a competent, skilled builder wishing to build your own pool, a DIY build with this style of pool is achieveable with help from Oasis Swimming Pools.
Options for Vinyl-Liner Pools
Whilst there are limitations as to the depth of the walls with this pool, making a flat bottomed pool a good option, wedge shaped bottoms or hopper bottom deep ends can be produced, allowing diving board options. Steps from patio into the water are equally possible but are preformed usually and built into the blockwork. You can choose from liners that are a cheaper, pre-formed bespoke liner, made off-site and vacuumed into place, or more expensive liners, which are on-site extreme liners, tailored to the pool on-site with joints welded. This latter form of lining is of a better quality, will last longer and opens up free form additions such as underwater steps and spa areas, etc.
Whatever you choose, when it comes to pool design, our friendly team at Oasis Swimming Pools are happy to help. If you are looking to find out more or are ready to holiday at home, we are ready to discuss your project. Call us today on 01304 619 705, or get in touch.