At Oasis Swimming Pools, every facet of your pool can be customised, with many features and options available, depending on the pool you've chosen to construct. You can have a look at some of these options so you have a better idea of just what will go into building your dream pool. Here are some of the many options available.
Floor Configuration
Pool Surrounds
Pool Features
Flat bottom
Flat bottom pools are pools which have only one depth, determined by the size of pool you've chosen. Some pools, such as Intex pools only offer a flat bottom option, whereas in a concrete in-ground pool, you can choose this as an option if you prefer to use your pool for exercise only, and will not be diving, for example.
Hopper Bottom
A hopper bottom deep end is where the shallow end has a levelled area which then slopes into the deep end, but then has levelled area in the deep end. This is usually preferred if you want a diving board.
Wedge
A wedge deep end is where the shallow end has a levelled area which then slopes into the deep end, but has no levelled area in the deep end.
Traditional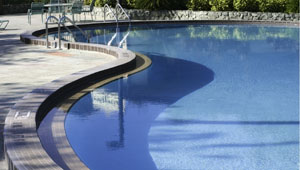 We can give your swimming pool a traditional look, with brickwork to match your home. Working in partnership with our sister company PA Hollingworth, we can give a beautiful finish to your swimming pool. Whatever the feel you're after, at Oasis Swimming Pools, we can build anything you can dream up.
Modern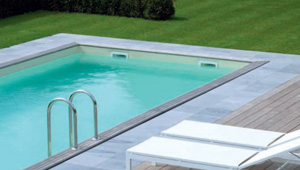 Are you looking for a pool surround that fits into a modern landscape? We can give you the extravagant look you're craving, from ultra-modern lighting to dark tiling and paving. Whatever you can imagine, we can build it. We work with our sister company PA Hollingworth, to sculpt your outdoor living area into a haven of luxury.
At Oasis Swimming Pools, we offer a multitude of features to enhance your pool, creating a pool to your exact specifications.
Thermal Insulation
Interest in thermally insulated swimming pools has grown considerably over recent years, especially in the light of increasing energy costs and DEFRA's Carbon Emissions Reduction Targets. We at Oasis Swimming Pools Kent have been developing ways of achieving energy-saving, highly efficient swimming pools over many years, and we can now offer you an insulated swimming pool, designed specifically to meet with your requirements and budget. Read more about thermally insulated swimming pools.
Pool Heating
We have heat pumps to make your pool an oasis any time of year. Swimming pool heaters provide the ultimate in bather comfort, as they ensure that your household continues to get good use out of the pool throughout the year. If you have an outdoor pool, then swimming pool heaters can help to extend your swimming season. Not only do we supply all manner of pool heaters which are designed for various applications, but we will do our utmost to ensure you select the most suitable heater for your pool. We offer various swimming pool heat pumps, heat exchangers, oil and gas fired boilers, electric heaters and solar heating solutions. Whatever swimming pool heater you choose, we have an excellent range of spares and accessories for all the heaters we offer.
Pool Enclosures
We offer telescopic pool enclosures. If you wish to create a sub-tropical style paradise in your own back garden,there are generally two options available to you. You can decide to extend your swimming season with a pool enclosure or airdome and finally be free from the uncertainty of the British weather. The benefits of purchasing swimming pool enclosures from a leading UK company are many and include the following:
Use less chemicals
Use less water
Reduce heating costs
Less debris entering the pool
An extended swimming season
Pool Lighting
We have a range of underwater lighting available to create the perfect atmosphere for your night-time relaxation. Whether you have an in ground or above ground swimming pool, getting the underwater lights just right is very important. Underwater lights for swimming pools can create the perfect atmosphere for your pool and surrounding area.
When it comes to lighting your swimming pool, you can choose from a selection of pool surround and perimeter lights as well as our underwater lights, LED lighting or halogen. We also supply a wide array of spares, accessories or replacement bulbs for pool lights, get in touch with us to discuss the various options we have available.
Fountains
Give your pool a stunning feature with wow factor. Enjoy the therapeutic, tranquil sounds of cascading water with our beautiful fountains.
Waterfalls
Create your own personal garden of Eden. We can create waterfalls for standard or natural pools to enhance your senses as you sit by the poolside.
Custom Tile Design
If you're option for a tiled in-ground concrete pool, we can create custom designs when tiling, adding special details or your family crest. Get creative with Oasis.
Accessories
We have a range of pool accessories available to purchase online from our sister site, Oasis Pool Products.
The best way to go forward is to speak to one of our specialists. Not only do we have the knowledge and experience to help you in determining what you need, but can give you advice to suit your budget. Call us today on 01304 619 705 or get in touch.