Installation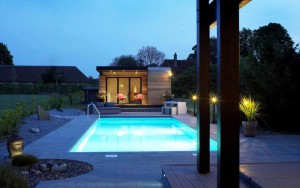 New outdoor swimming pool, built to clients requirements in Medway towns with difficult access issues and on a sloping site.
The Goals
Our clients required a good size family swimming pool in their rear garden with a deep end for diving and good sized areas around the pool for socialising and family time.
The Process
The access was up a long and narrow private drive which made the whole project complicated with regards removal of the excavated material and access for the materials used in the build process. A temporary road was necessary to gain access around from front to the rear of the house over mature lawns which needed protecting. The rear garden was sloping down from the back of the plot to the house so extensive landscaping was required to provide the flat area needed to construct the pool and paved surround. Large Rag Stone rocks were present approx 1.2m below the ground which added to the list of challenges we overcame.
The pool was constructed as a block and liner pool with 225mm thick solid blockwork walls and a sculptured bottom (Hopper) to form the deep end approximately 2.4m deep suitable for diving. Coloured stone flat top copings were used to frame the pool and the patio pool surround was formed in granite coloured indian stone with coloured resin joints. Saltwater chlorination has been integrated and a heat-pump provides the heating requirements of the pool from April to September.
Key Accessories / Products