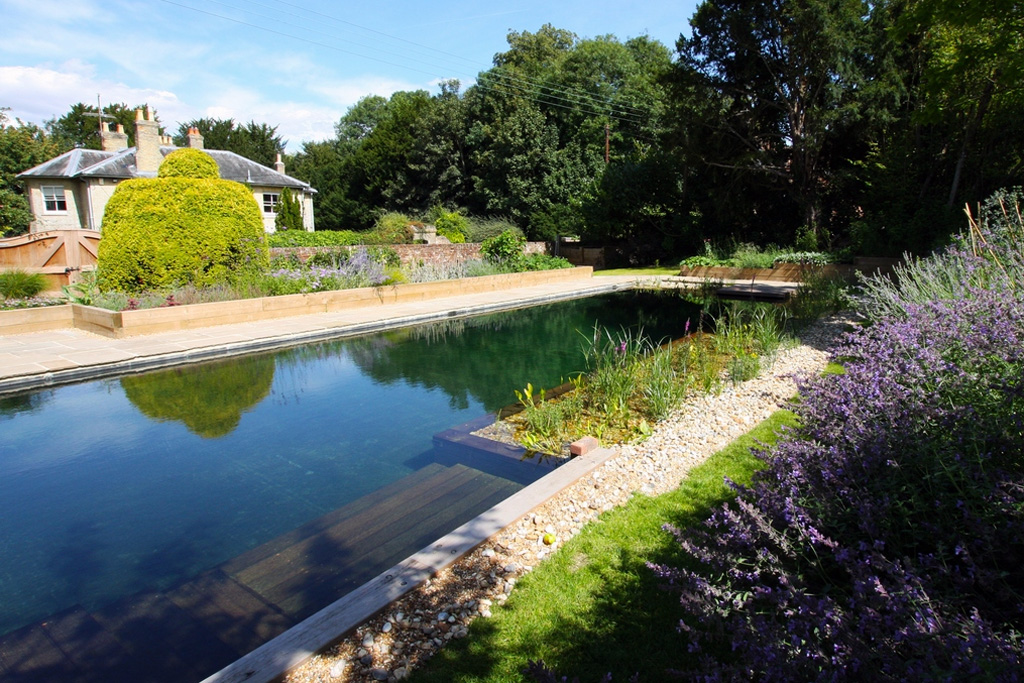 Natural swimming pools are a growing part of our industry, and whilst more popular in America than here in the UK, we have noticed an increasing demand for them. A natural swimming pool can simply mean that the pool is built to a free form shape with some of the surround finished with a natural stone patio, part-finished in a more natural way with rocks or even a waterfall and marginal planting area. Elaborate natural swimming pools can include streams and planting which eliminates the need for chlorine sanitation, use a dark-coloured liner or pool finish which looks more natural in colour – more like a lake than a traditional swimming pool. Just remember that nothing we do will replace nature in every way; filtration and possibly some UV sterilization may remain necessary and therefore maintenance of the pool and human intervention is never fully eliminated.
Natural Swimming Pool Construction
You can construct these natural pools using the concrete or liner construction method but it should be noted that the concrete method will produce the best-looking natural pool and open up endless possibilities in design whilst minimising the leaks you may get with over-intricate designs. Anything could be possible, from sloping, beach-style entry points to waterfalls, streams, caves and even wildlife in the water with you!
Natural Pool Surrounds
This kind of swimming pool requires a good level of landscaping detail and design. We therefore partner with local company PA Hollingworth to provide this service, or we will happily work alongside your own landscape designer to link the elements of natural design and pool technology, providing you with the swimming pool you desire.
To find out more, why not call us today on 01304 619 705, or get in touch? Our friendly team at Oasis will be happy to help.